Sollers College and its parent company, Sollers Inc., have been ordered to cancel $3.4 million in student debt to resolve separate charges brought by the Federal Trade Commission and the state of New Jersey that said the companies lured prospective students to enroll by falsely touting their job-placement rates and that their relationships with prominent companies would lead to jobs after students graduate.
The for-profit school also had an illegal twist to the "income share agreements" it encouraged students to take out to pay for the school, according to the FTC's complaint. Income-share agreements require students to pay the school a percentage of their future income in exchange for covering their tuition.
"Not only did Sollers College use deceptive advertisements to attract students, it trapped them in multi-year income share agreements that broke the law by leaving out important borrower rights," said Samuel Levine, Director of the FTC's Bureau of Consumer Protection. "Today's order cancels all income-share agreements issued by the school. Companies that skirt long‑standing consumer protection laws when offering new financing products should be on notice that the FTC takes these violations seriously."
According to the FTC's complaint, Sollers, and its parent company, used their website, social media, and email campaigns to falsely advertise their partnerships with prominent employers in the fields of information technology, clinical research, and drug safety. Sollers falsely claimed that its partnerships with prominent employers, such as Pfizer, Weill Cornell Medicine, and Infosys, resulted in jobs for its graduates at those companies. In reality, many of the businesses featured on Sollers' website had no partnership with the school at all. 
The complaint states that, since at least 2018, Sollers advertised that the vast majority of Sollers graduates are placed in jobs. For example, the company advertised, "90% of our students are placed within 3 months of graduation," on its website. In reality, the job placement rate for Sollers graduates is substantially lower than the 80 percent, 82 percent, 90 percent or "near perfect" rates featured prominently on its website and in its advertising campaigns. For example, the school's own data suggests that the current job-placement rate for graduates of its Life Sciences programs remains as low as 52 percent.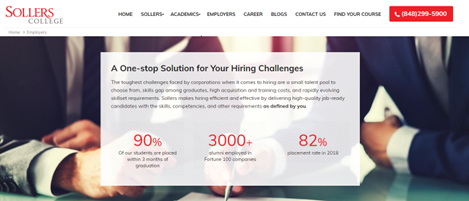 In addition, the complaint notes that Sollers encouraged students to pay for their education using income-share agreements. Under the specific terms of Sollers's contracts, students agreed to pay Sollers a fixed percentage of their future income on a monthly basis, typically for two years. Between August 2018 and April 2021, the school entered into 392 illegal agreements, none of which included certain disclosures mandated by law. Specifically, the agreements failed to include the Holder Rule notice, which protects consumers who enter certain loans or credit contracts by preserving their right to assert claims and defenses, even if the loans or contracts are assigned to a third party. Sollers later sold a portion of the agreements to third parties.
Under the stipulated order, the for-profit is prohibited from falsely advertising any educational product or service. The order also prohibits the company from denying access to diplomas or transcripts based on any debt forgiven by the proposed order.
Specifically, Sollers must:
stop collecting debts from students on any income-share agreements it currently holds;
re-purchase any income share agreements it sold to third parties to stop collection efforts on those agreements;
request that consumer reporting agencies delete the debt from consumers' credit reports;
and provide written notification to consumers who are receiving debt forgiveness under the proposed order.
The Commission vote authorizing the staff to file the complaint and stipulated final order was 3-0. The complaint and stipulated final order will be filed in the U.S. District Court for the District of New Jersey.
The staff attorneys on this matter are Wendy Miller and Paul Mezan of the FTC's Bureau of Consumer Protection.
NOTE: The Commission files a complaint when it has "reason to believe" that the named defendants are violating or are about to violate the law and it appears to the Commission that a proceeding is in the public interest. Stipulated final orders have the force of law when approved and signed by the District Court judge.