The FTC will be mailing refund checks totaling more than $644,000 to people who lost money to a get-rich-quick scheme that falsely claimed they could earn significant money working online by using products marketed as "secret codes."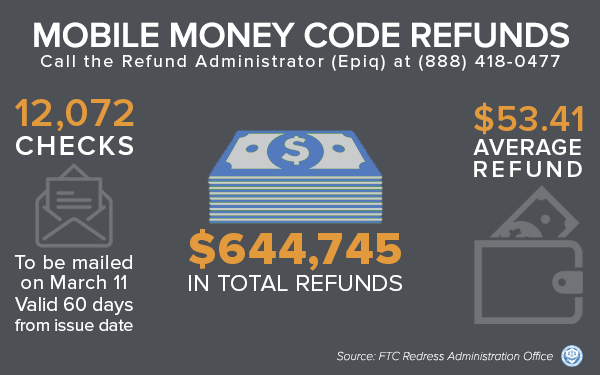 The refunds stem from a settlement with the operators of the Mobile Money Code scheme, which also used the names eMobile Code, Auto Mobile Code, Easy Cash Code, Full Money System, and Secret Money System. The defendants claimed that people could make substantial income using their "secret codes" online. In reality, these products were generic software applications for building mobile-friendly websites.
As part of the settlement, the FTC will be sending 12,072 checks averaging about $53 to victims of the scheme. The checks will expire after 60 days. These are legitimate checks, and the FTC urges people to cash them before they expire. The FTC never requires consumers to pay money or provide account information to cash a refund check.
Consumers who have questions about the refunds should contact the refund administrator, Epiq Systems, at 1-888-418-0477.
FTC law enforcement actions led to more than $2.3 billion in refunds for consumers in a one-year period between July 2017 and June 2018. To learn more about the FTC's refund program, visit www.ftc.gov/refunds.
The Federal Trade Commission works to promote competition, and protect and educate consumers. You can learn more about consumer topics and file a consumer complaint online or by calling 1-877-FTC-HELP (382-4357). Like the FTC on Facebook, follow us on Twitter, read our blogs, and subscribe to press releases for the latest FTC news and resources.