Operators allegedly bilked consumers out of more than $23 million
The Federal Trade Commission has stopped a student loan debt relief scheme, alleging it bilked more than $23 million from thousands of consumers with false claims that it would service and pay down their student loans. After the FTC filed a complaint seeking to end the deceptive practices, a federal court temporarily halted the scheme and froze its assets.
According to the FTC's complaint, since at least 2014, the operators of Mission Hills Federal and Federal Direct Group have lured consumers into paying hundreds to thousands of dollars in illegal upfront fees with false promises to lower consumers' monthly student loan payments. The defendants also allegedly tricked consumers into submitting their monthly student loan payments directly to the defendants by falsely claiming to take over servicing the consumers' loans. In reality, the defendants either only applied minimal payments on consumers' loans or, in many instances, applied none of the payments to the loans, diverting consumers' payments to themselves.
"Debt relief companies can't collect advance fees or masquerade as federal student loan servicers," said Andrew Smith, Director of the FTC's Bureau of Consumer Protection. "Anyone asking for upfront fees to help with student loan debt is likely a scammer, and consumers should hang up and alert the FTC."
The Commission also alleged that the defendants obtained consumers' student loan credentials, such as their FSA ID—a username and password used to log in to U.S. Department of Education websites—to log in and change consumers' contact information, effectively hindering or entirely preventing consumers' loan servicers from communicating with consumers. Many consumers went months or years before discovering that their student loans were not being repaid, according to the complaint.
The FTC has charged the following defendants with violating Section 5 of the FTC Act and the Telemarketing Sales Rule: Elegant Solutions, Inc. (also doing business as Federal Direct Group); Trend Capital Ltd. (also doing business as Mission Hills Federal); Dark Island Industries, Inc. (also doing business as Federal Direct Group and formerly known as Cosmopolitan Funding, Inc.); Heritage Asset Management, Inc. (also doing business as National Secure Processing); Tribune Management, Inc. (also doing business as The Student Loan Group); and three individual defendants, Mazen Radwan, Rima Radwan, and Dean Robbins.
How to Avoid Student Loan Debt Relief Scams
To help consumers avoid falling victim to such fraud, the FTC has consumer education related to student loan debt relief scams at ftc.gov/StudentLoans.
Only scammers promise fast loan forgiveness, and they often pretend to be affiliated with the government. Consumers should never pay an upfront fee for help, and should not share their FSA ID with anyone.
Consumers can apply for loan deferments, forbearance, repayment, and forgiveness or discharge programs directly through the U.S. Department of Education or their loan servicer at no cost; these programs do not require the assistance of a third-party company or payment of application fees. For federal student loan repayment options, visit StudentAid.gov/repay. For private student loans, contact the loan servicer directly.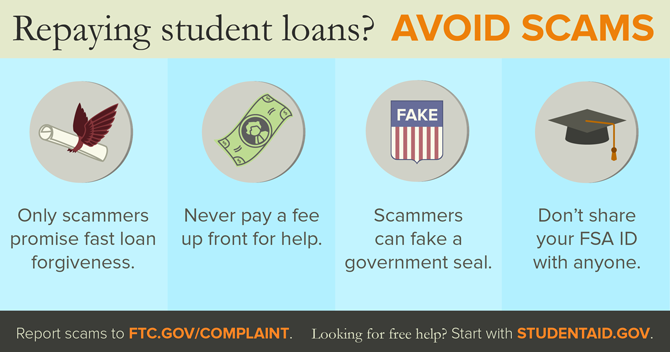 The Commission vote authorizing the staff to file the complaint was 5-0. The U.S. District Court for the Central District of California entered a temporary restraining order in the case on July 10, 2019.
NOTE: The Commission files a complaint when it has "reason to believe" that the named defendants are violating or are about to violate the law and it appears to the Commission that a proceeding is in the public interest. The case will be decided by the court.
The Federal Trade Commission works to promote competition, and protect and educate consumers. You can learn more about consumer topics and file a consumer complaint online or by calling 1-877-FTC-HELP (382-4357). Like the FTC on Facebook, follow us on Twitter, read our blogs, and subscribe to press releases for the latest FTC news and resources.