FTC to release data quarterly with new interactive tool, launches Data Spotlight
The Federal Trade Commission hears from millions of consumers each year about fraud, identity theft, and other problems, allowing us to warn other consumers about scams they should watch out for, while also providing the agency with an important source of information to support our enforcement actions.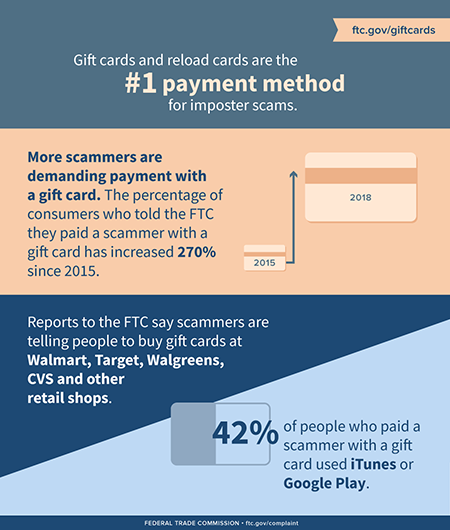 Starting today, the FTC will be making this information more accessible by releasing its aggregated consumer complaint data on a quarterly basis in a new interactive online format. Up until now, the FTC has released aggregated consumer complaint data collected through our Consumer Sentinel Network on an annual basis. Our new tool will provide a more timely snapshot of what consumers are reporting, while empowering users to explore the data by types of fraud, state, and a variety of other dimensions.
As part of this initiative, we are also introducing our first Consumer Protection Data Spotlight, which will take a deep dive into the data to illuminate important stories we are hearing from consumers.
This first edition of the Data Spotlight focuses on a disturbing trend in 2018 – scammers are increasingly demanding to be paid with gift cards, particularly iTunes and Google Play cards. The percentage of consumers who told the FTC that scammers demanded to be paid with gift cards or reload cards such as MoneyPak has increased 270 percent since 2015. Gift and reload cards are now the number one reported method of payment for imposter scams.
Imposter scams involve someone pretending to be a government official, tech support representative, loved one in trouble, or someone else in order to get consumers to give the scammer money. As with our 2017 annual report, the latest quarterly consumer complaint data shows that imposter scams, along with debt collection and identity theft, were the most reported consumer complaints.
Gift cards are attractive to scammers because they provide anonymity and are very difficult to reverse once used. The FTC's advice is simple: If someone tells you to pay with a gift card, don't do it. Gift cards are for gifts, not for payments.
The Federal Trade Commission works to promote competition, and protect and educate consumers. You can learn more about consumer topics and file a consumer complaint online or by calling 1-877-FTC-HELP (382-4357). Like the FTC on Facebook, follow us on Twitter, read our blogs, and subscribe to press releases for the latest FTC news and resources.