As part of a state, federal, and international crackdown on tech support scams, the Federal Trade Commission has temporarily shut down a Utah-based scheme that tricked consumers into believing their computers were infected with viruses in order to sell them costly computer repair services.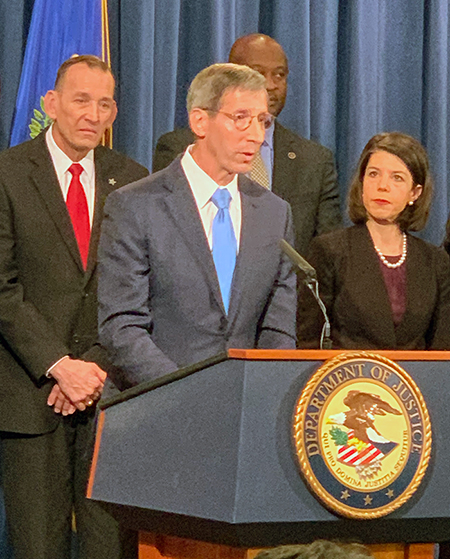 Chairman Joe Simons reaffirmed FTC's commitment to keeping older adults safe during a speech at the Department of Justice Tech Support Takedown 2019 Elder Fraud Event.
At the request of the FTC, a federal judge issued a temporary restraining order against Elite IT Partners, Inc. and its founder, President and CEO James Martinos. In a complaint, the FTC alleges that Martinos and his company used deceptive tactics to gain access to consumers' computers and then sell costly and unnecessary computer repair and other services. The vast majority of the scheme's victims were older consumers, according to the complaint.
The FTC's action is part of an initiative announced today with the Department of Justice and other federal and state partners aimed at cracking down on elder fraud, with a particular focus on tech support scams. The effort is part of the Department of Justice's largest coordinated sweep of elder fraud cases in history.
"In 2018, older consumers reported losing money to tech support scams more frequently than younger adults," said FTC Chairman Joe Simons, who discussed the issue at a news conference today at the Department of Justice. "The actions announced today show that we are committed to keeping older adults safe by shutting down these tech support scams and holding the operators accountable for their illegal actions."
The FTC today released new complaint data that shows tech support scams may disproportionately affect older adults. The FTC's latest Consumer Protection Data Spotlight shows that consumers 60 and older were about five times more likely in 2018 to report losing money to a tech support scam than younger adults (those between the ages of 20 and 59). Over the past four years, older adults filed more reports of a loss to a tech support scam than any other FTC fraud category.
In addition, the FTC also is releasing updated guidance for consumers and businesses on how to spot and avoid losing money to a tech support scam. This includes a new three-minute video featuring a consumer who fell victim to a tech support scammer.
FTC Targets Utah-based Scam
The FTC alleges that Elite and Martinos used Internet ads targeting consumers looking for email password recovery help. Consumers who responded to Elite's Internet ads were encouraged to provide their names, email addresses, and phone numbers. Once they reached consumers, Elite's telemarketers often claimed to be associated with well-known companies like AOL or Yahoo, or falsely claimed that these companies are defunct and no longer provide customer service.
Elite's telemarketers falsely told consumers that their problems most likely stemmed from a computer virus or infection in order to persuade consumers to provide access to their computers, the FTC alleges. Once they gained access, the telemarketers ran bogus "diagnostic" tests that tried to pass off normal computer files and functions as problematic or dangerous and made other deceptive claims.
The telemarketers often told consumers that these sham "diagnostic" tests showed their computers were in imminent danger in order to sell them unneeded computer repair and antivirus software and services, according to the FTC complaint. They used other scare tactics and misrepresentations to sell additional service plans costing as much as $39.99 per month. The FTC alleges that the company failed to adequately disclose that it required a one-year commitment and consumers would be automatically renewed for a second year if they did not cancel in writing at least 30 days before the end of the year. In addition, consumers who tried to cancel within the first year were charged a $150 fee not disclosed prior to purchase.
The FTC alleges that the defendants violated the FTC Act, Telemarketing Sales Rule, and Restore Online Shoppers' Confidence Act; ROSCA prohibits the sale of goods or services on the Internet through negative option marketing without the proper disclosures.
The Commission vote authorizing the staff to file the complaint was 5-0. The complaint was filed in the U.S. District Court for the District of Utah, Central Division.
NOTE: The Commission files a complaint when it has "reason to believe" that the law has been or is being violated and it appears to the Commission that a proceeding is in the public interest. The case will be decided by the court.
The FTC would like to thank Oath (now known as Verizon Media) and Microsoft for their assistance with this case.
The Federal Trade Commission works to promote competition, and protect and educate consumers. You can learn more about consumer topics and file a consumer complaint online or by calling 1-877-FTC-HELP (382-4357). Like the FTC on Facebook, follow us on Twitter, read our blogs, and subscribe to press releases for the latest FTC news and resources.